Ok, is it just me, or is a page-turning mystery novel way better than a night of binge-watching? Any book that takes me away from my phone and wanting to engage in the "real world" certainly gets my attention. And for those of you who are experiencing an early summer (*cough cough Chicago*), these books also make delightful picnic and beach companions.  
The Family Next Door by Sally Hepworth
Domestic thrillers are so menacing, because they uncover both familiar and unfamiliar evils in areas that are attractive because of their safety. Essie is an Australian woman living in a seaside suburb of Melbourne.  She wants the world to forget that she abandoned her newborn baby in a park many years ago, in a moment of postpartum desperation.  In present time, a woman named Isabelle moves into town, and Essie and her friends aren't quite sure what to make of her. Isabelle has a plan of her own, but what threat does it pose to this beautiful and tightknit neighborhood? And why are everyone's secrets starting to trickle out in the open, airing the dirty laundry no one wants to admit they have?
Told interchangeably from the perspectives of Essie, her friends, her mother, and Isabelle herself, Hepworth explores the issues of mental health, fidelity, deception, and how trust is reframed when children and motherhood are involved.
Source: Sent by the publisher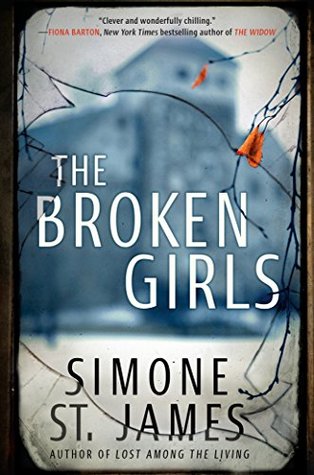 The Broken Girls by Simone St James
Idlewild Hall was an all-girls boarding school where girls were sent when they were rejected from their homes. Young women born of indiscretions, misunderstood trauma, and alleged troublemakers were taught at this creepy New England boarding school. Four roommates in the 1950s bonded over living in this haunted palace, and struggle to keep their wits about them after a lonely, sensitive friend goes missing.
Fiona Sheridan is a journalist who is haunted by her sister's murder, which took place after Idlewild closed in the 1990s. It is present day and a body is uncovered, stirring up all kind of emotions from her past. How will Fiona connect with these school girls from Idlewild's murky past?
St. James shows us that female friendships can be a strong force against both perceived and real evils. This book yields a classic ghost story with enough twists to keep you on your toes well into the night.
Source: Book of the Month Club selection!
Tangerine by Christine Mangan
A book that has drawn comparisons to The Talented Mr. Ripley was sure to grab my attention. Alice Shipley is a timid woman brought to Tangier by her husband, John. Following her is her former roommate Lucy Mason, with whom they both share a menacing past. Lucy shows up in Tangier, hoping to rekindle her friendship with Alice.
A shared past involving an "accident" in college, Alice is mistrusting of her friend who surprises her in this foreign place. Juxtapose the clinging heat of Africa and the sweetness of the hot mint tea and you're left with a tornado of unease and discomfort in seeing how Alice tries to figure out if this is a friendship she still wants. Tensions rise and we see a once close friendship blossom into a suffocating, threatening presence. What lies beneath is commentary on the destructive nature of one-sided, obsessive friendships, and how insecure our surrounding relationships become in the presence of a manipulative person.
Source: Sent by the publisher
Our Little Secret by Roz Nay
One of the things I love about mystery novels is that I can become so consumed that I can't think of anything else. What other form of entertainment can do the same?
Roz Nay's debut novel is gripping, yet subtle. Angela Petitjean's ex-boyfriend's wife, Saskia, is missing. Angela is interrogated by a homicide detective, J. Novak, in the cozy town of Cove, Vermont. Angela, however, isn't in the mood to talk about Saskia. She wants to tell Novak the story of her relationship with her ex, revealing the nature of the breakup, as well as how Saskia came into the picture. She's still wounded, but is it enough for murder?
I got some real Primal Fear vibes from this book, and I loved it. The lingering story telling from a narrator you just can't trust, but you don't know why. The cramped quarters of the interrogation room, with a suspect who just wants validation for her pain. Each character is given a really unique voice, making you feel as though you are watching a realistic, yet chilling story unfold.
Source: Sent by the publisher