Michele Campbell's debut thriller, It's Always the Husband, came at a much needed time when I was looking for escapist fiction. Do you get mystery/thriller withdrawal like I do? If my thoughts are a little jumbled, it's because I'm coming off of some major writer's block. A column I wrote was approved for publication a few months ago, and then rejected a few weeks later. As a result, I took some time to just read and recoup!  It's time to get back in the game, and I'm so excited to review this book!
It's Always the Husband is a mystery that is told in two parts. The first part is a recounting of the history of three very dissimilar colleges roommates (in temperament, socioeconomic status, and personality) during their time at college. A tragic accident (or is it?) happens and changes the dynamic of their ever-changing relationships. The second part is present day, with a murder prompting the friends to revisit their role in the aforementioned accident. Violence begets silence, and it's quite the page-turner.
This book gave me the slightest of flashbacks to my favorite book, The Secret History. A small college on the East Coast, filled with privileged children and the multi-flavored family drama of their pre-college lives (a social worker's dream!). Just add a dash of college-town politics and a 20-year post-college history (and yes, not so "Greek" as TSH).
Ruth Ware's endorsement on the cover states: "A page-turning whodunnit that will speak to anyone who's ever had a fremeny." The word "fremeny" has always been so problematic for me (friend + enemy…usually just means enemy). However, in this story, the love/hate dynamic of the friends totally fits the definition.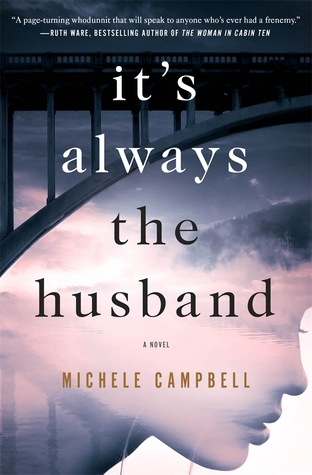 Our main girl, Kate (antagonist? protagonist?) reminded me of some other famous characters- some real, some fiction. The wounded, well-to-do blonde is a common character in mysteries (maybe we have Hitchcock to thank?), and the Campbell's take on the device/character was so well done. I was fascinated with Kate and how polarizing she was in her community.
Kate brought to mind these ladies, in particular:
This book was rich with characterization, and I was genuinely surprised at the ending. Campbell writes not just a murder mystery, but a story about the power of betrayal in friendships and how omission can be just as bad as lying in any relationship. A subtle undercurrent of the role of privilege is here, too, showing how motivation for financial comfort can alter our moral values when they are tested.
Highly recommend this one!
Rating: 4 stars
Further Reading: