Christmas of 2012, my boyfriend bought me a black and gold Fossil watch. In the two years of almost daily use, I have replaced the band just once and it's held in great condition. It's sleek, with an easy-to-read face. It's a great blend of feminine and masculine features, and I always get several compliments!
The watch I currently own is pictured here, but Fossil's website also features similar styles, with different trim around the face (see here, and here).
Item on sale at Overstock.com
This next watch I purchased on my own, as an answer to wearing outfits with predominantly navy tones (clashing with the black and gold watch pictured above) . I found it on Ebay, but it is also available on Overstock.com.
 Item on Overstock.com
You might have seen this Fossil gem on Pinterest: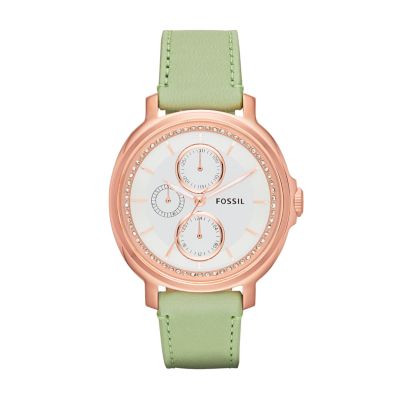 Item on Fossil.com
Now it's on sale! I have been eyeing this for so long, but ultimately decided that I would go with a more neutral option. However, it would look rather nice for Spring…
Don't forget than when buying watches, sign up for the seller's newsletters! Fossil has an email list, as does Macy's, Nordstrom, and Overstock.com (Overstock occasionally will have LivingSocial deals, too). You never know when your watch might go on sale or be eligible for a coupon code.
xoxo,
Sandra